Things to know before you travel. Budapest Airport to city: bus 200E and 100E info
Palma, Ivan 22-02-2023
Fabulous, fun and affordable – Budapest is the perfect choice for a holiday no matter what budget you're on.
With our Budapest travel tips, we'll give you an overview of everything you need to know to plan a smooth arrival and get started in the city, from getting started at the airport through changing money and getting your first tickets/programs planned out.
Budapest Ferenc Liszt International Airport
Budapest Airport is an easy-to-navigate airport in the city, with convenient public transport connections. Locals commonly refer to it as Ferihegy (its old name), and it is by far the largest commercial airport in Hungary, serving as a hub for Wizzair, and a base for Ryanair. Getting around in easy, both at the airport and in the city.
Budapest Airport to city
Budapest Airport bus
The Budapest airport bus is by far the most affordable way to get into the city. As the airport is just around 15 kilometers from the city center, the ride is simple and fast, these are the two options:
Bus 100E Budapest Airport bus to Deák tér or Kálvin tér
This express bus only stops at two stops in the very center, Kálvin tér and Deák tér. The first two buses in the morning stops at Astoria station as well. If you want to take this bus you need a special ticket to go from Budapest airport to city. The individual ticket for bus line "Budapest 100e" costs 900 HUF. The direct service 100E provides service between Budapest Ferenc Liszt International Airport and Deák Ferenc tér in the city centre.
The first bus leaves the airport at 4:10 a.m., while the last departure is at 1:05 a.m.; the service frequency is approx. 15 minutes.
The first bus is from Deák Ferenc tér at 3:30 a.m. and then every approx. 15 minutes until 00:25 a.m. (on Sundays the frequency is reduced to every 10 minutes).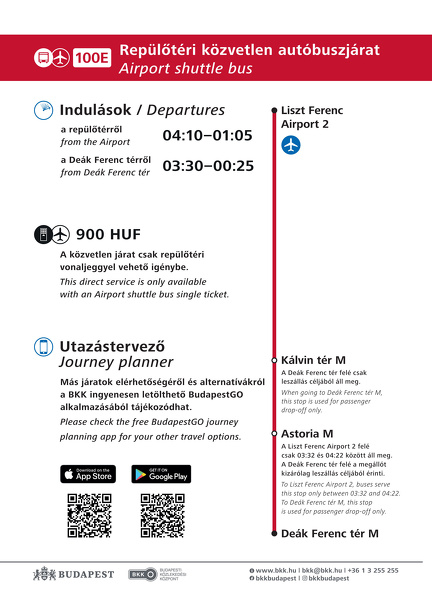 Bus 200E Budapest. Airport bus to M3 (blue subway line)
200E bus takes you to the blue Budapest metro line (M3, the name of the stop is Kőbánya-Kispest), which you can then ride the subway to the city center. However, due to renovation, the last stop is Nagyvárad tér, where you have to change to subway substitution bus M3, which can take you to the city center quickly. You can use 200E with a regular ticket/pass.
At Liszt Ferenc Airport, there is a bus stop just outside Budapest airport arrivals. (Budapest departures is just as easily accessible by the same bus, too.) 200E runs all night between Terminal 2 and Kőbánya-Kispest. A Budapest metro map and all other important public transit information are available here. You may also want to download the BKK FUTÁR (Budapet public transport) app – it's very reliable and useful, all locals use it and it has an English version.
Budapest taxi services and airport shuttle
Budapest taxi companies provide the fastest Budapest airport to city rides. As some cab drivers try to take advantage of travelers, it's best to stick with the official partners of Budapest Airport, Főtaxi (cabs) and miniBUD (shuttle). The airport shuttle has a stand inside, near the baggage claim area, and also outside, next to arrivals. You might have to wait up to 30 minutes for the shuttle to collect enough passengers, and a ride to the downtown costs around 5000 HUF. Főtaxi has stands right outside arrivals – a ride could cost over 8-9000 HUF depending on traffic, so for 2 or more people it's actually a better deal than the shuttle service.
How to buy a ticket/pass
Tickets are available from machines next to the airport bus stop: set the touchscreen to English or other languages and select a ticket or a pass. You can pay by card or cash (card is preferable, as the rates for changing money at the airport are much worse than in the center).
Budapest public transport is reliable and it's really everywhere, so consider getting block tickets or a pass. A single ticket costs HUF 350 (or slightly more if purchased from driver). If you want to take "bus 200E Budapest" and then the metro, you will need two separate tickets.
Where to change money
Exchange bureaus in the downtown offer much better rates than the one at the airport. So it's best if you pay by card at the airport, and change money near Maverick – for example, Northline, Correct Change and Gold Change are all reliable chains with competitive rates.
Near Maverick City Lodge:
Northline: 26 Rakoczi ut, 1072

Correct Change: 41 Erzsebet korut, 1073

Gold Change: 8 Erzsebet korut, 1073
Near Maverick Hostel Budapest:
Correct Change: 39 Vaci utca, 1056, or 3 Duna utca, 1056
Near Maverick Urban Lodge:
Center Change: 17

Ferenc krt., 1094
Hop on hop off: Budapest city sightseeing by bus and boat
City Sightseeing
Where is Budapest? Right in the middle of Europe, and not just geographically. Budapest attractions range from the Roman to the Turkish, Habsburg to Communist, vintage to brand new. Pick up a free Budapest map or ask for a city guide at the reception desk of Maverick Hostel or City Lodge, and use the official Budapest travel card (Budapest Card, see below) to get the best discounts. Here's how to make the most out of your trip
Budapest Card: The official city pass
Besides free public transport, a Budapest Card will allow you to access 22 museums free of charge plus you get a free entry to a really nice thermal bath, and various discounts from 10 to 50% to attractions, cultural programs, cafés and sights. Cards are available for 24, 48, 72, 96 or 120 hours – the clock starts ticking when you first use it, so you'd better get a regular ticket for the airport bus and start using your Budapest Card as you start sightseeing! (If you'd like a regular public transport pass with no extra perks, you can buy one from any ticket selling machine – look here for a comprehensive list of Budapest public transport tickets and passes.)
Feel free to ask for help or more information at the reception desk. Our staff is happy to direct you to even more discounts, for example, a 10% discount at Fat Mama's eatery right next to the Maverick City Lodge, or free walking tours.
Credit: Website budapestinfo.hu
Free walking tour Budapest
Twice daily, free walking tours leave from the Basilica (the beautiful downtown cathedral not far from Maverick) to give you a primer on the city and its sights. The tours usually take 2.5 hours, spending some time both on the Pest and the Buda sides, covering the essentials of city sightseeing. Participants are encouraged to tip the guides. Sounds like fun? Simply ask at the reception desk for more details.
Budapest by Bus and Boat
One of the easiest ways to explore the city at your own pace is the flexible sightseeing offered by Big Bus Tours – you can hop on and hop off the bus as many times as you like, while discovering the most important landmarks, including the Royal Palace, magnificent Heroes Square or the amazing Parliament by the Danube. In fact, if you'd like to try a Danube cruise, – well, a Premium and Deluxe Tickets include a free 80-minute cruise along the Danube, floating by sights such as the National Theater or the Chain Bridge.
Or, if you want to ride a bus that actually turns into a boat for a part of the journey, riding right into the river with you on board, check out the tours offered by RiverRide!
Credit: Facebook @riverridebudapest
Rent a car
All major car rental companies are present in town – you can get a car easily at the airport, or most places would offer an option to get it in town and drop it off at the airport. Feel free to ask Maverick staff for recommendations or more information.
Food: Best Budapest restaurants
From traditional Hungarian food to street food, fancy to affordable restaurants – this is your lucky day, we have a Hungarian restaurant Budapest Guide for you! Try all of our favorites if you have the time, you won't be disappointed!
Credit: Facebook @fatmamaeatery
Exotic retro public transport
Take a ride on the first subway line of the European continent (Hungarians are proud that only London, off the coast of the European continent, had one before Budapest): it feels tiny compared to modern lines, but locals and tourists love to ride it every day. If you're into actual old trains, now that you have a Budapest card, you can enjoy a free nostalgia ride on the so-called 'Heritage Tram' operated by the Budapest Public Transport Company, between May and September. (If you'd like to try it and you don't have a Budapest Card, you can purchase tickets – regular passes don't cover the nostalgia rides.)
Best Budapest attractions and nightlife
Budapest points of interest span centuries in time, and merge the best influences of the East and the West. Turkish baths, Roman ruins, Monarchy-era architecture and Communist styles blend into a modern city that's livable as much as it is loveable. Add to this mix the cafés, pubs, ruin bars which seem to be there on every corner and there you have it: the fun capital of Central Europe!
Take a Budapest map to stroll from the City Park to Buda Castle and check out the Budapest sights and attractions, both in culture and in nightlife.
Have a safe trip! Recommended accommodation: Maverick Hostel, City Lodge and Urban Lodge, The Best Hostel in Budapest. Enjoy your trip ;)
Recent blog posts